So you've seen Tom Stoltman or any other incredible strongman lift an atlas stone and are now thinking of acquiring one for yourself. They are definitely a fun training implement to play around with and become freakishly strong. Here is a list of the best atlas stones available for sale in any weight or size.
What Are The Best Atlas Stones To Buy?
Here are my picks for the best atlas stones providers on the market.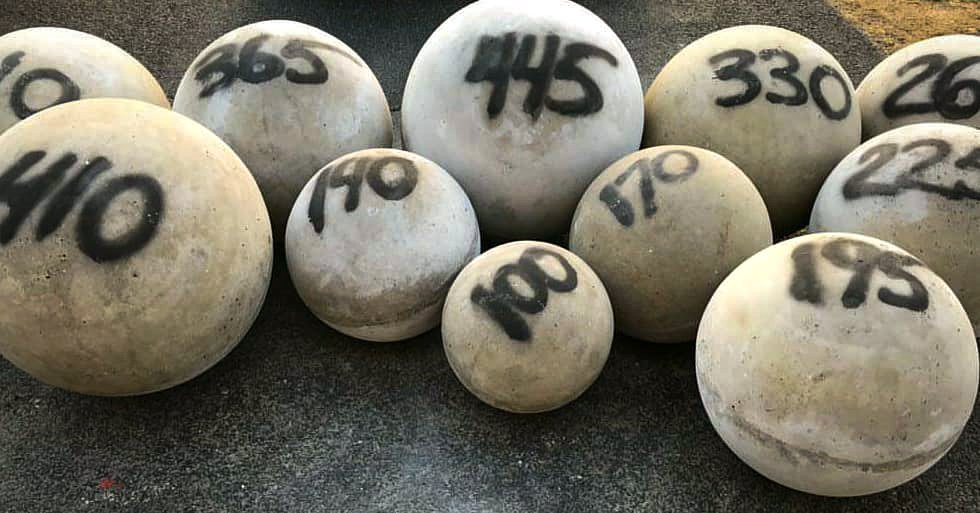 Overview
ISF Fitness is based in Totowa NJ offering delivery & local pickup of professional-level, premium quality CrossFit, Powerlifting, and weight lifting equipment.
Highlights
Weight ranges from 40lbs to 260lbs.
Size ranges from 12'' to 22''.
It takes 2-4 weeks to make the stones!
There might be a stock of some stones!
They provide custom sizes!
Expensive shipping!
Pricing
65$ for the lightest (40lbs) stone.
515$ for the heaviest (465lbs) stone.
There will also be the added cost of tax and shipping!
Shipping price scales depending on the size or the amount of the stone(s)!
Final thoughts
What makes ISF Fitness great is the fact that you can order custom sizes in the below ranges:
Or if you require custom sizes that are not on this menu, you can write them an email about what size atlas stone you'd like.
Overview
StrongArm Sport supplies top quality lifting gear at a fair price. Operated by Mike Armstrong, from Calgary Alberta. They provide atlas stones made out of reinforced concrete to prevent breaking, using Slater molds.
Highlights
Weight ranges from 145lbs to 586lbs.
Size ranges from 15'' to 24''.
It takes around 6 weeks to make the stones!
Best shipping prices overall!
Pricing
142$ for the lightest (145lbs) stone
306$ for the heaviest (586lbs) stone
There will also be the added cost of tax and shipping
Shipping price scales depending on the size or the amount of the stone(s)!
Final thoughts
StongArm Sport is great for those who want to take strongman (or just stone lifting) very seriously. They offer the heaviest atlas stones available to purchase online and their shipping costs are very reasonable.
Overview
Rogue Fitness is the leading manufacturer of strength and conditioning equipment, including barbells, power racks, sleds, and accessories. They are based in Columbus, Ohio. The products they offer are reliable and of the best quality.
Highlights
More beginner friendly as they have a rubber cover.
Weights range from 50lbs to 200lbs.
Sizes range from 10'' to 18''.
Inexpensive shipping prices!
Pricing
FREE SHIPPING if you order the 225 LB SET or the 450 LB SET.
165$ for the lightest (50lbs) stone
475$ for the heaviest (200lbs) stone
There will also be the added cost of tax and shipping
Shipping price scales depending on the size or the amount of the stone(s)!
Final thoughts
Rogue Fitness is well known in the strength and fitness community. You know that you can expect the best quality of equipment when ordering from them.
Although they only offer rubber-covered atlas stones, they're still a great option for many starting out.
Another reason why you might want to go with rogue is because they already have the stones in stock. Meaning you don't need to wait for them to start making the stones and have the concrete cure.
What Are Atlas Stones?
An Atlas Stone is a concrete ball, usually intended to be lifted to a platform from the floor — often in series — as part of a Strongman competition.
They get their name from the Greek Titan Atlas who is condemned to hold up the heavens for eternity. Atlas has been depicted in sculptures carrying a celestial orb which is where the inspiration comes from.
Atlas Stones In Strongman Competitions
The atlas stones were originally introduced to the sport in 1986 at the World's Strongest Man competition and the event was called Stones of Strength.
Since then it has become one of the most popular strongman events. It's held as the final event of the Giants Live and the World's Strongest Man.
At first, the stones were picked up from the ground and had to be placed on waist-high platforms that were 3-6 feet (1-2 meters) away from the location of the stone.
Over time, the event has evolved and the stones have become heavier and the platforms taller. Now, the stones are right next to the platforms, allowing for greater weights to be lifted.
I assume that one of the reasons why they moved the stones closer to the was also for safety reasons. The atlas stone is after all, an odd object. Past a certain size and weight, it gets very hard to even hold onto, let alone walk with it.
Wrap Up
Atlas stones are certainly an unique piece of training equipment. They help you develop isometric strength and power and turn you into a well-round athlete.
MMA fighters, football players and athletes of various different disciplines have started to incorporate atlas stone training into their training programs. Training with atlas stones will benefit you in one way or another!
They're downside is that they are rather expensive and the logistics are oftentimes the hardest part in acquiring them.
But as the strongman sport is becoming more and more popular, you can find them in many private gyms around the U.S. If you're not ready to invest in them yourself, find a fellow enthusiast who already has them!